Sector
Charity, Entertainment, Sustainability
Challenge
Keeping donor attention on supplying aid to natural disasters that hit the eastern US with entertainment and self improvement workshops.
My Role
Event Facilitation, UX, Product Design, Branding
Project Time
6 Weeks (before debute event date)
Brand and Strategy
Over the course of a few video mettings, we developed brand attributes, intended audiences, and company goals. The goal was to have an event that met the criteria we outlined, not to reach perfection due to a limited timeline and budget.
Preliminary Brainstorm
To throw a benefit concert and handcraft an experience for attendees that care about self improvement, the environment, spirituality, etc. Partner with a charity. Take results to a seed funder or event funding service to franchise the brand so the impact can spread.
Brand Attributes and Mission Statement
By brainstorming and prioritizing the key values of the brand, we created the brand motto and mission statement.
Defining the Target Audience
In order to empathize with the target users/audience, we contucted user personas that mimicked the lifestyles and preferences of our target users. These personas were created partially off of assumtions and field research conducted during the case study.
Persona 1 - Julia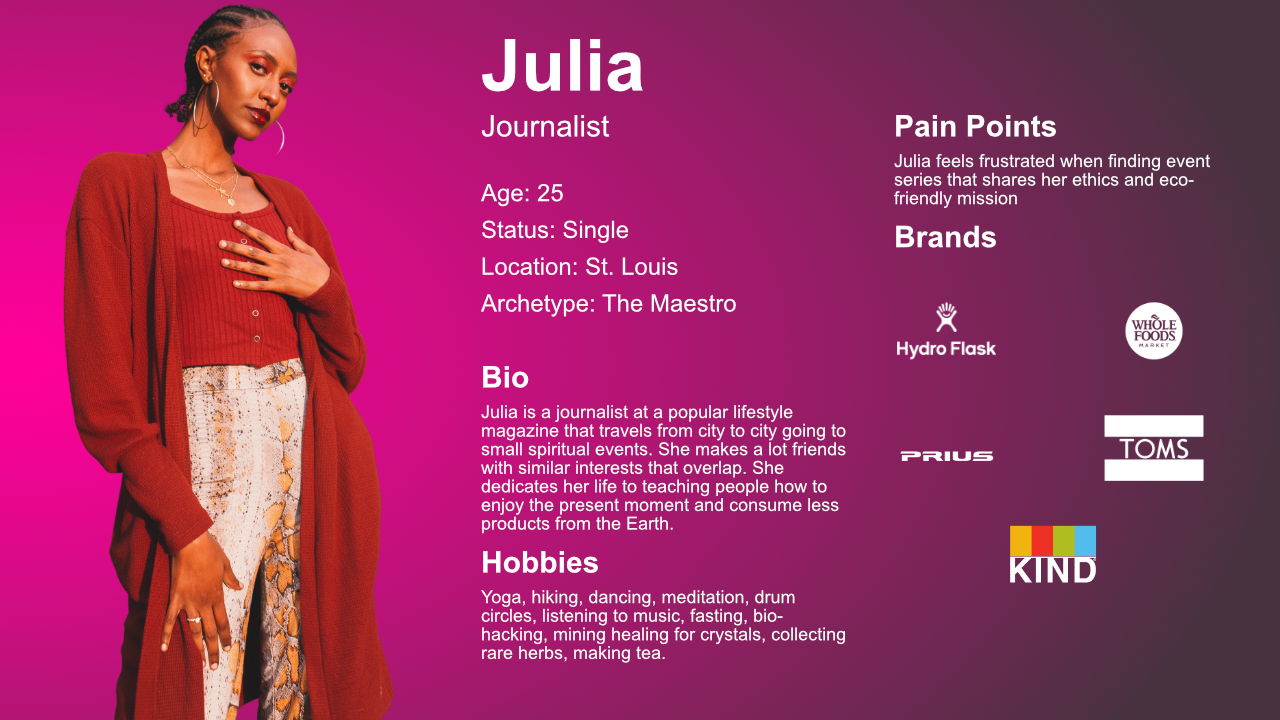 press and hold on mobile - or - right click on desktop to view/dowload
Persona 2- Will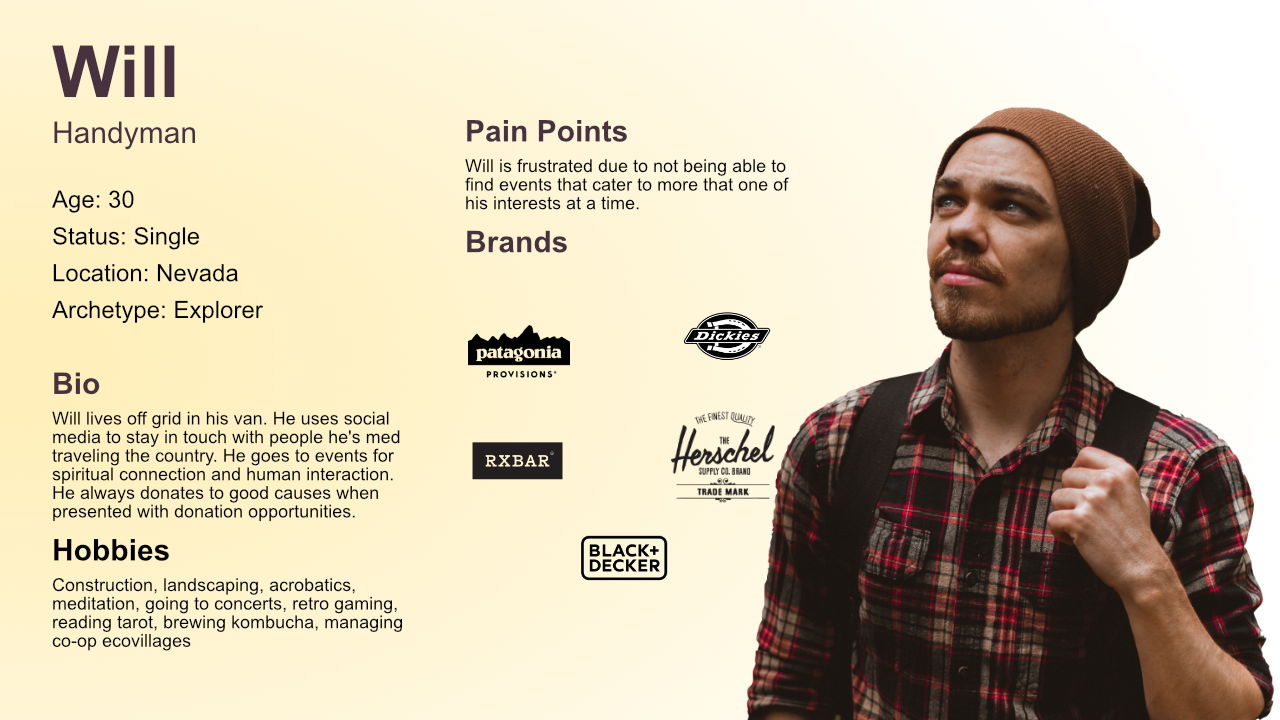 press and hold on mobile - or - right click on desktop to view/dowload
Solutions
Environmentally conscious festival grounds, facilities, vendors, and important causes that can be addressed by everyday people without having to vote on it.
Competitive Audit
At the time, eventbrite was a competitor. Facebook just began doing the events feature. Burning Man is an example of a sustainable event, but it did not seem that it is scalable like a franchise with more than one event happening in various locations.
Industry standards
Hosts can create a profile for themselves or their venue. They can create profile like event pages where guests can purchase tickets, comment, and stay up to date with event changes
Gaps
but a few things that were missing (or up to the host) were critical details about venue practices and artist's content/messaging.
Prioritization
Making users aware that the event would be off-grid, with sustainable compost port-i-potties, and no disposable or single-use cutlery.
Clear Call to Action
In the time of disaster, we choose to rebuild. Attend the Manifeztival to rebuild.
Social Proof
Marketing reached out to the CEO and president of Habitat for Humanity to obtin an official letter for validation purposes that all proceeds of the Manifeztival were going directly to their charity.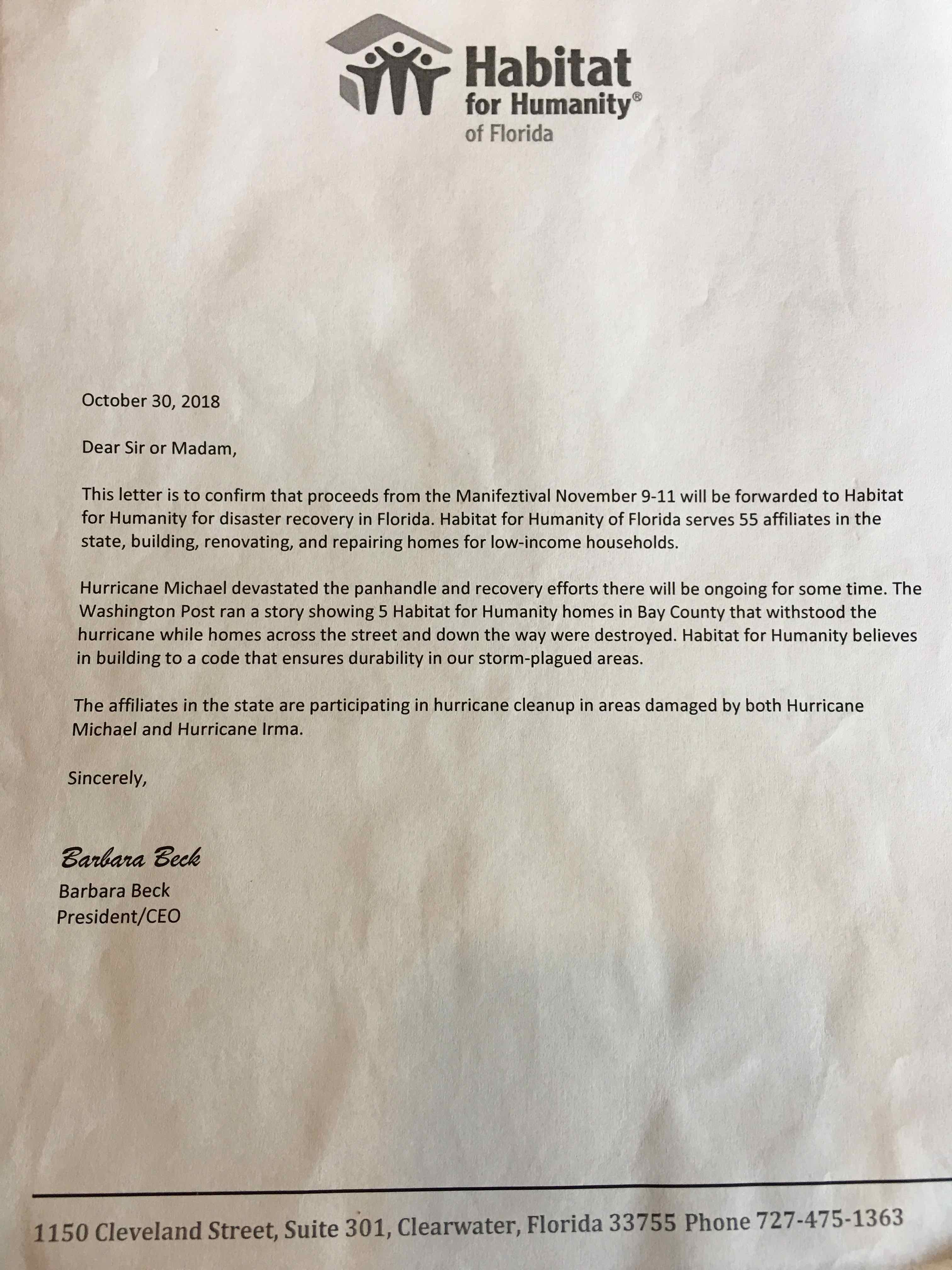 Information Architecture
Web Design
To better help foster a sense of trust and highlight the mission/ call to action, the website imagry should resonate with the media images that user's are seeing in media coverage about hurricaine florance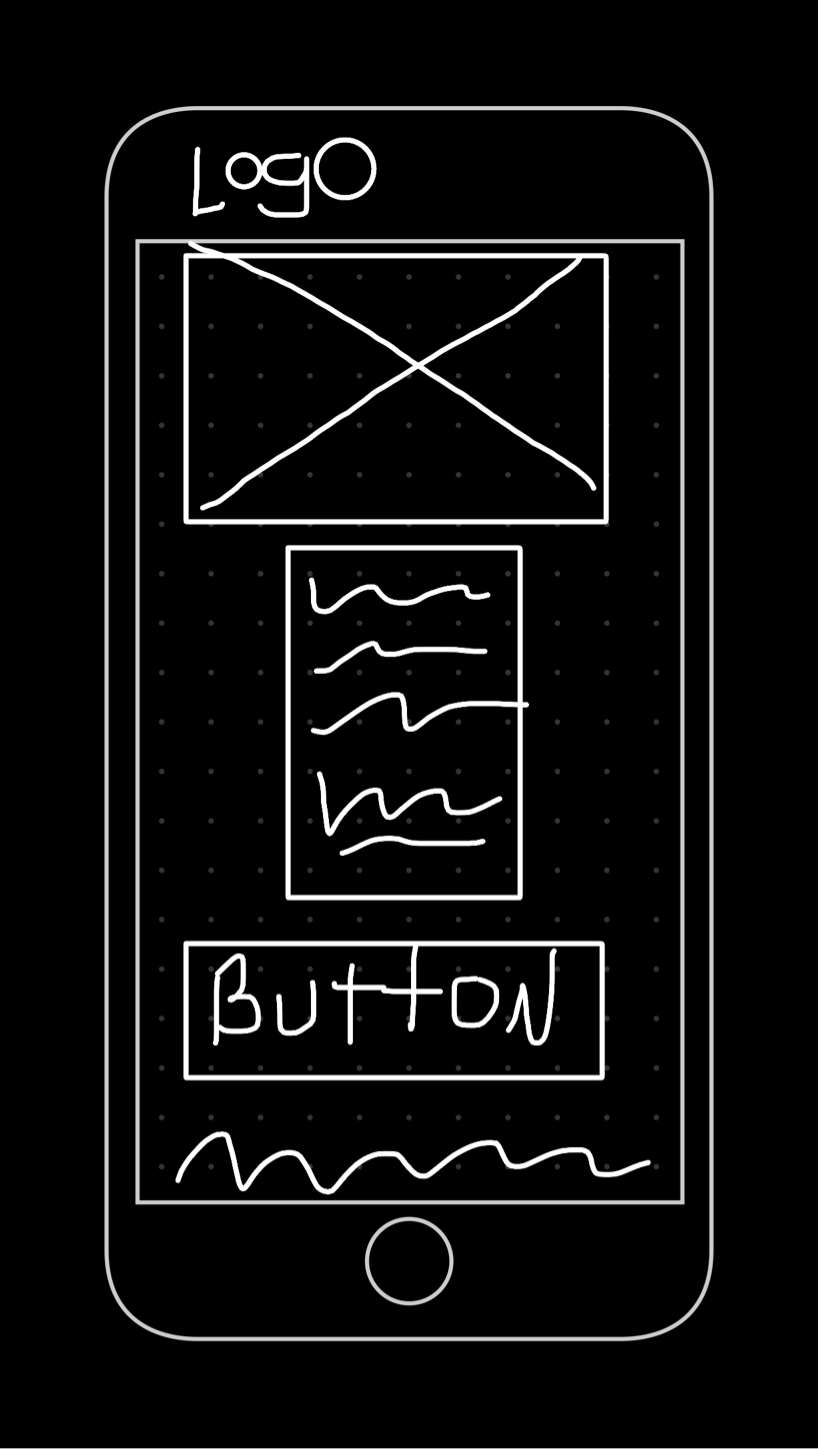 Visual Design
Visual Identity was established in 2 sprint phases. In the first phase I researched best practices of logo design and typography guidelines. Version A of the logo and typeface is below.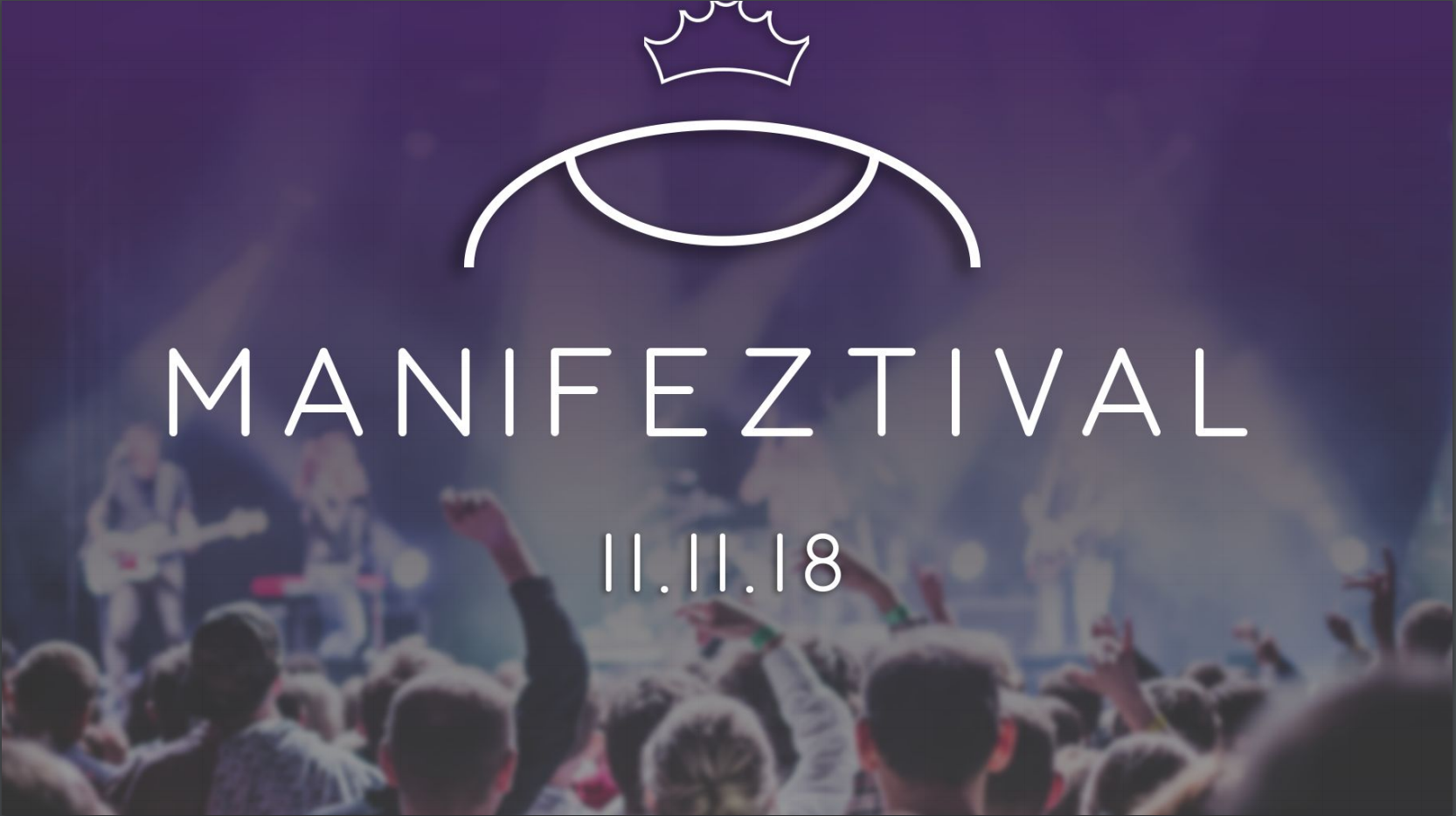 After testing this image and the typeface in various sizes and usecases, I learned that it was too thin. In order to look good at any size, I should use bolder lines and a heaver weight for the font. The re-designed branding is below.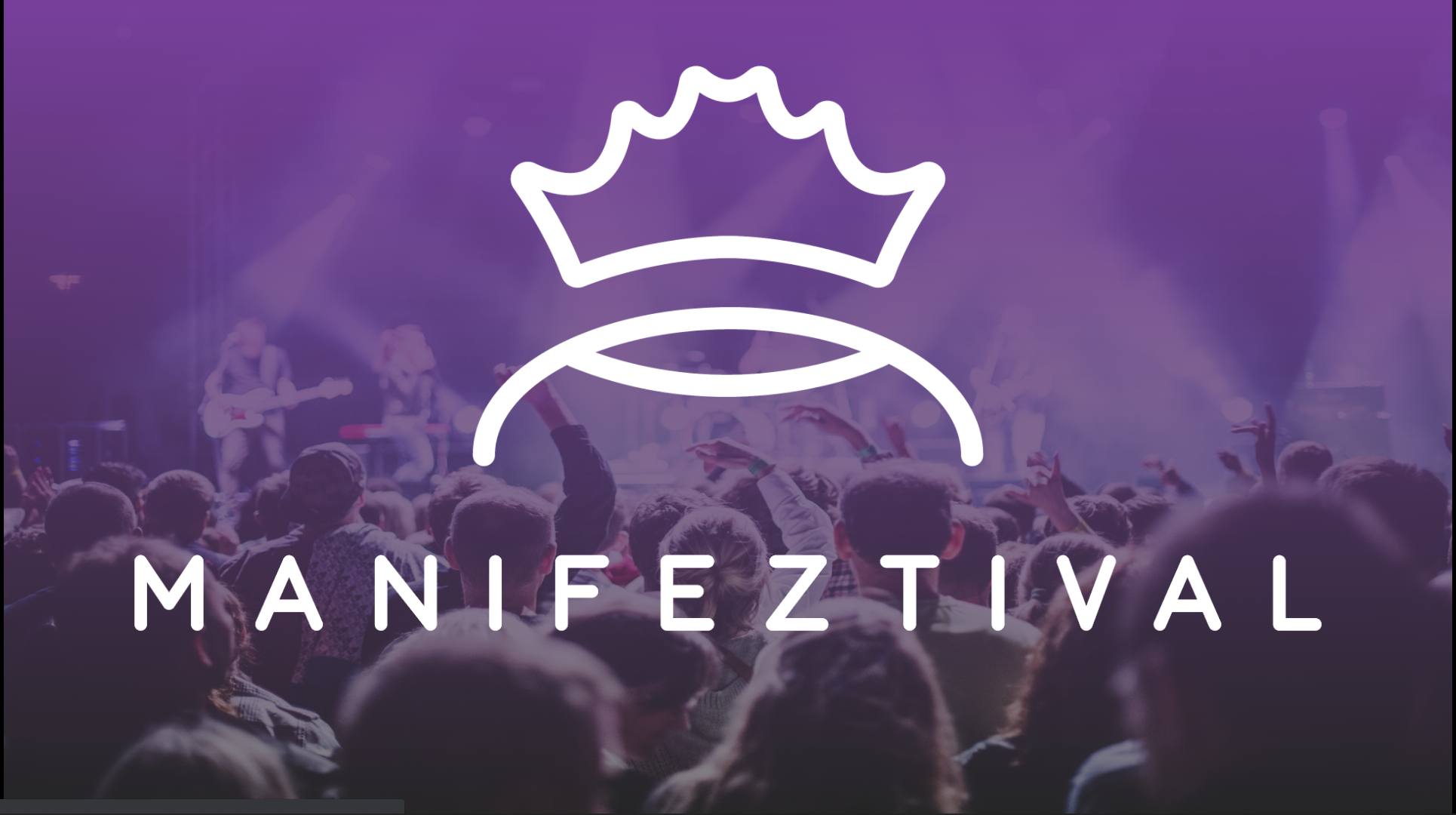 Version B - the final design for the logo and typeface
view the entire pitch deck here on Google Slides
Style Guide
To ensure that the brand was in sync across all teams and platforms, I created a simple style guide and basic semantic UI color scheme.
Final Icon Logo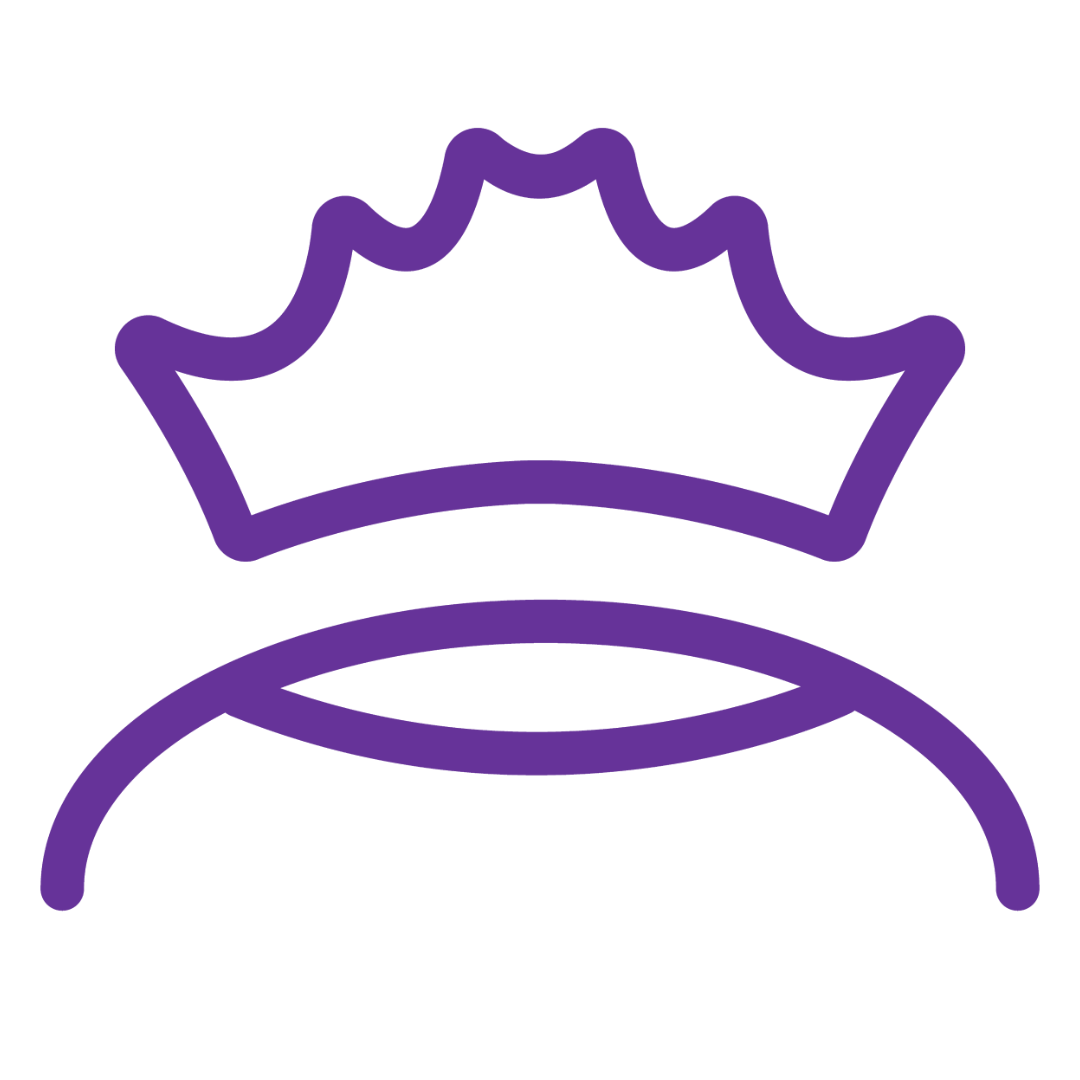 Purple color for light backgrounds White color for dark backgrounds
Color Palette
Fonts
The primary brand typeface used with the logo icon is

View Manifeztival's Website
Although the DNS settings have changed, there is still a URL to view this project on the web. Check it out
here
Conclusion
Funds were raised, however as the tech person, I was not informed the exact dollar amount recieved.
The market for an environmentaly friendly, disaster relief event series is a blue ocean. If given a longer timeline and a budget to hire a larger team, this test event could become a viable asset that provides RELEVANCE / ATTENTION as a service to communities that need money and labor to rebuild.
Performance Feedback/ Brand Updates
The core team loved the branding so much they got tattoos of the logo and apparel made with my product designs.
Manifeztival crew getting branding materials tatted in Las Vegas via Njeri Cooper on GIPHY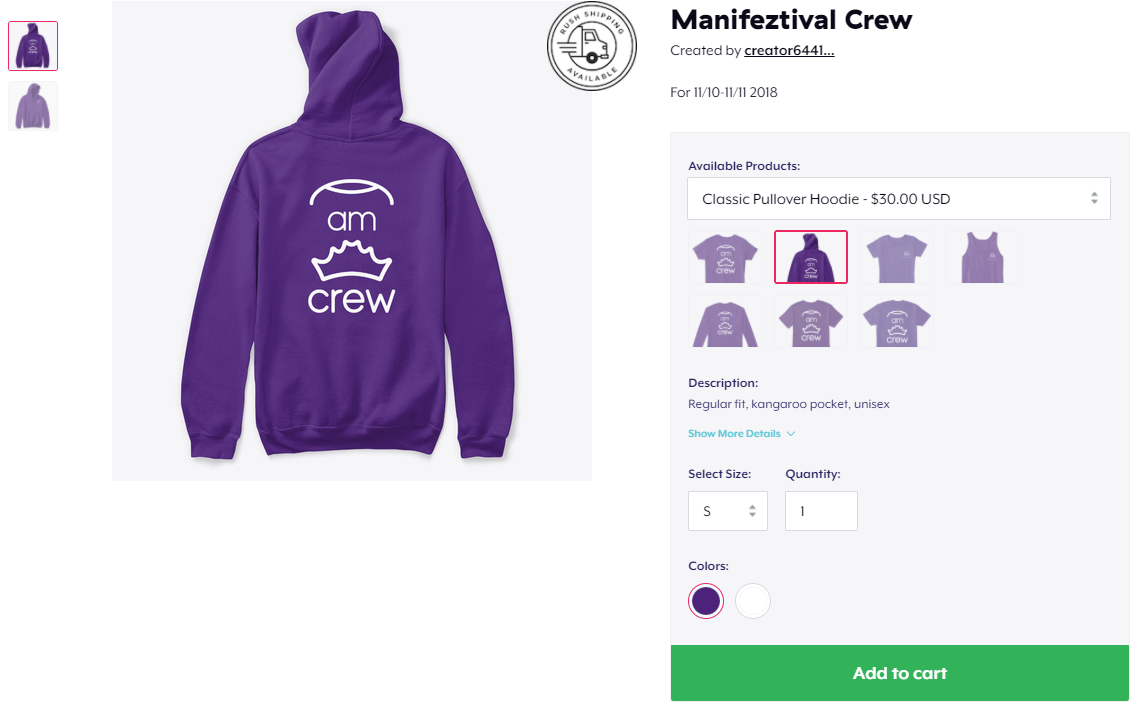 Listen to one of the sets from the Manifeztival on Spotify
In 2021, The Artist ~9 rebranded as Queen of the Moon, using the same visual identity as the Manifeztival. Queen of the Moon is an independent artist on a misson to help other artists efficently connect with their audience. She does this by leveraging the marketing powerhouse of Trinity Media and Marketing to reach customers through events such as NFT auctions and other paid partnerships.
Back to Portfolio